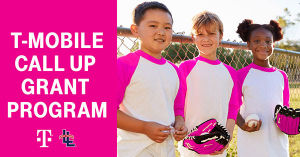 Yakima National Little League believes that every child should experience the Little League program, regardless of their financial situation. That's why T-Mobile and Little League are teaming up to make participation in our league more affordable!!
They will pay up to $125.00 per child if you are approved!! If you have already registered, no problem, you can still apply and if approved, they will refund you your money!!
For more information and apply for the T-Mobile Little League Call Up Grant today, please go to:
SÓLO EN…..
Yakima National Little League cree que cada niño debe experimentar el programa de Little League, independientemente de su situación financiera. Es por eso que T-Mobile y Little League se están uniendo para hacer que la participación en nuestra liga sea más asequible!!
Se pagará hasta $125.00 por niño si se aprueba!! Si ya se ha registrado, no hay problema, todavía puede aplicar y si se aprueba, que le reembolsará su money!!
Para obtener más información y solicitar la beca de llamada De T-Mobile Little League hoy, vaya a: