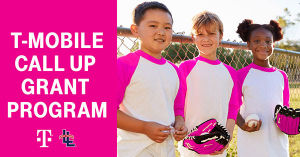 Yakima National Little League believes that every child should experience the Little League program, regardless of their financial situation. That's why T-Mobile and Little League are teaming up to make participation in our league more affordable!!
For more information and apply for the T-Mobile Little League Call Up Grant today, please go to:
Yakima National Little League cree que cada niño debe experimentar el programa de Little League, independientemente de su situación financiera. Es por eso que T-Mobile y Little League se están uniendo para hacer que la participación en nuestra liga sea más asequible!!
Para obtener más información y solicitar la subvención de llamada de la pequeña liga T-Mobile hoy, por favor vaya a: