WHAT DOCUMENTS DO I NEED TO PROVIDE IN ORDER FOR MY CHILD TO REGISTER?
You must provide your child's birth certificate, a medical release form, and proof of residence within the Yakima School District boundary. The easiest way to provide proof of residence is to have the School Enrollment Form filled out at your child's school. These forms can be found on the Forms tab above.
If you cannot provide a school enrollment form, you must provide three alternate forms of proof. These options include a parent driver's license, voter registration card, vehicle registration, welfare record, homeowner insurance, renter's lease, or utility bill. Please email yakimalittleleaguebaseball@gmail.com if you have any questions about the requirements for proof of residence.
WHAT ARE THE AGES FOR EACH DIVISION?
Generally, the division ages are:
T-Ball   4 – 5 years old
Coach-Pitch   6 – 8 years old
Minors   8 -10 years old
Majors   10 -12 years old
Juniors   12 -14 years old
A player may "play up" or "play down" a division based on experience and skill level, at the request of the parent and with the agreement of the league president.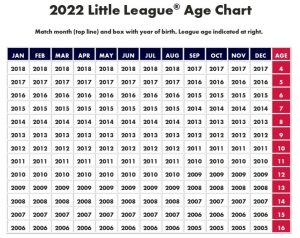 IS THERE FINANCIAL AID AVAILABLE?
Yes. We do not want cost to stop anyone from being able to play. There is a grant called the T-Mobile Call Up Grant, which is provided in partnership with Little League International, to provide scholarships for any player in need. For more information or to apply, please visit https://www.littleleague.org/call-up-grant-program/
DO I HAVE TO TRY OUT?
All players in the MINORS and MAJORS divisions need to attend at least one of the evaluation dates. This year's evaluation dates will be Saturday, March 5 and Saturday, March 12 at Elks Park. All players who are evaluated will be placed on a team, regardless of experience or skill level. The purpose of evaluations is to ensure that teams are evenly picked.
T-BALL and COACH-PITCH players are automatically placed on teams without evaluation.
Teams will be drafted and players notified of their placement by the week of March 28.
WHEN WILL THE SEASON START?
The 2022 Spring Season is slated to start on Monday, April 11.
WHERE ARE THE GAMES PLAYED?
The Yakima National Little League plays all its games at Elks Park, located at 911 Hathaway St.
HOW TO I BECOME A COACH?
All coaches and assistant coaches are volunteers. No experience is necessary, and all equipment as well as training will be provided. As a volunteer, anyone interested in coaching must fill out the Volunteer Application Form found on the Forms tab above. Please note that by signing the Volunteer Application Form, you authorize the league to perform a mandatory background check.
WHY DO I NEED A BACKGROUND CHECK TO BECOME A COACH OR VOLUNTEER?
Everyone who is interested in volunteering with the Yakima National Little League in any capacity must pass a mandatory background check in accordance with the Little League International rules. For more information about volunteering or these requirements, please visit https://www.littleleague.org/volunteer/
HOW DO I CONTACT YOU IF I HAVE ANY FURTHER QUESTIONS?
Please feel free to email yakimalittleleaguebaseball@gmail.com or call 509-823-8017 with any further questions.