YAKIMA VALLEY SUMMER LEAGUE INFORMATION
Yakima Valley Summer League Youth Baseball registration is here. Each Little League program in the valley has been asked about a summer league program. In an effort to make this a reality we are asking interested parents to register their child so we can get a head count. Registration will END JUNE 22, with the hope that summer league will start JULY 8th. We do not yet have the cost finalized as we need to see how many teams we can create. However, we are hoping to keep the fees at or below $45.00 per player. This registration does not guarantee a roster spot but helps us put together as many teams as possible. Once teams are officially formed the player fee will be determined and due by June 28th.
https://l.facebook.com/l.php?u=https%3A%2F%2Fdocs.google.com%2Fforms%2Fd%2Fe%2F1FAIpQLScLK4odayyJSgzQzJUI5ZF9qNq8wUc-hOT0Ds6UXK_ZPPJmHQ%2Fviewform%3Fvc%3D0%26c%3D0%26w%3D1%26fbclid%3DIwAR2q2-Gmvy0_1K8T7m1PpYEGQBltwJj-DfB6mPMxZtcA_n7xMg5YYut4gT8&h=AT1FmWzShzG6MN2-J_1oTazXE0_sEegHR4KjgCLXxszlLDSzvACHHWwdqBh_FO22wMzwALHiOp0BiNd5BvoxymT0DnXmMjz0lrPROpyUDVvHKc63B0xKy5zR38fWbl587cRbflv4hIrdFTulfBrIIgkZFvscTJhaYL6kqVWOso7DLJ6nNuYzEH4qjwboI4Huvfg09JhQyQ6zmCOM7YGmAqIXmBWHz467LPRPsXBumAMO97Sm9g_Yvyy2aiNozL7n4fqOq_q8Kf5Aqq5RyMvtxhIaDMiVPfd66NQ9XJxQ6dgXE1zzaOXLQ_-i2oDACwSPu4vatQ93yuaLgLyxx5dhugwg2j1SQgST_uXzOPZ4t2jAdJJumHVjmPx_5pe_cYOVr32HxNiXnhTSofmb5RiODnJ4kaqSjl-tUNGkrBsXah32J7YYGgfj0V-9-M11cgC1gyOrc3DlvKh-dZ-_SO8Hpvr4QoKIHp2n0z9ob2LU1J2kWkXzCf_Xoh7cpfmRp5y_YEn7Ye3z0x0pruFk9S4Y_aJ5njwncSZDGPU5kw8PqxiuQ-ikrZQOGJVid2Or3-8mY8YVO6RETKHcUG79GKypGWLDHqnW3d0FUDrkq28W-ezwJu5YstfKPyVPb1Neg0deXQ
To Register please follow the link provided. Next week a few businesses in Yakima and Selah will have paper registration forms that can be filled out and returned via fax, email or text message. More information about these businesses will be provided next week.
Games twice a week for four straight weeks
Games will be played at Yakima National Little League & Selah National Little League fields
One jersey and one hat will be provided
Divisions:
– Divisions will depend on the number of kids and ages signed up. We hope to have a coach pitch, minors and majors league.
– Ages 6-12
Team formation:
– Each team will have a combination of kids from the Yakima Valley.
– If you would like to have a group of kids stay together, we will do our best to make this happen.
Game rules:
– Little league rules and regulations will be followed, including the following:
– 6 innings per game. No new inning after 1hr 45min, drop dead at 2hrs.
– USA approved bats only (wood bats can be used)
– Pitch count cannot exceed 50 in a day, may complete the at bat if 50 pitches reached during an at bat.
– No lead off
– No head first slides, except back to a base
– Must bat full line up
For additional information please contact Nicholas Kline at Nicholas.Kline509@gmail.com or send a message through Facebook to Yakima National Little League.
RIGHT HERE IN YAKIMA!!! 
FLYER:
WEBSITE: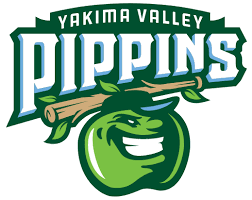 2019 Summer Skills Camp
Taught by Pippins coaches and players, with Marcus McKimmy as camp director.
July 9th – 11th
Ages: 8 – 13
Time: 9:00am – 12:00pm, daily
Cost: $119 per Camper
Holiday Special: $89 If Registered Before December 31st
Early Bird Discount: $99 If Registered Before March 31st
Family Discount: $99 per Child For 3 or More Campers in the Same Household (MUST REGISTER AT THE SAME TIME)
Location: Yakima County Stadium – 1301 South Fair Ave., Yakima WA 98901
Camp Includes:
3 Days Instruction
Camp Photo
T-Shirt
Ticket to game on July 11th vs. Northwest Honkers
Slip n Slide Pizza Party on the last day of camp
(Bring a bag lunch first 2 days of camp)
Games each day